At Veritas Event Management we are always looking out for the weird and wonderful hotels of the world. We like to think outside the box and strive to make your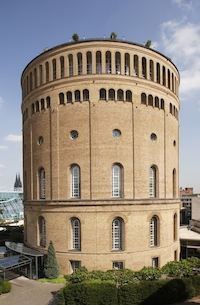 next incentive or overseas event a special one. Why not take your next incentive group and say at the unique HotelIm Wasserturm in Cologne?
This hotel was a 19th century water tower used to feed the growing cities population. Standing derelict for many years, it took the genius of French interior designer Andrée Putman and the courage of a team of investors to turn what used to be Europe`s largest water tower, into the amazing 5-star hotel that we enjoy today. This one-of-a-kind experience remains one of the most architecturally stunning hotels in Germany. The imposing 11 metre high entrance hall with its catwalks, mezzanine, Presidential suite, grand conference facilities all share the status that this massive building imposes.
At this hotel your next incentive or conference group is guaranteed a unique and outstanding experience. If you are considering planning your next overseas incentive trip why not choose this hotel? Need help with planning? Contact Kieran Kennedy on
Kieran.kennedy@veritas.com.au
Read more